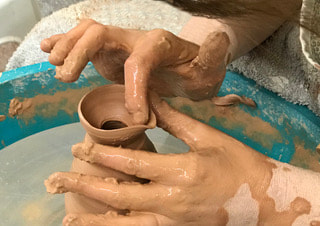 Pottery for Adults
Our tutors are very passionate about ceramics and love sharing their knowledge with you. We cater for beginners, intermediate, and advanced ceramic artists. Ceramic techniques taught include wheel work, hand building, sculpting and casting as well as functional ware.

Morning classes run on Tuesdays, Thursdays, Fridays and Saturdays at 10am – 12:30pm, afternoon classes run on Thursdays at 1pm - 3:30pm and Saturdays at 1:30pm - 4pm,
while evening classes run from Monday to Thursday at 6:30pm - 9pm.

Unless indicated otherwise, all adult classes run for 5 weeks.